SUPER RAFFLES
$25 for an arm's length, and $35 for a wingspan of raffle tickets
---
Char-Broil Grill
Performance 780 Charcoal Grill. Matte porcelain coated steel finish.
Cast iron cooking grates. 540 sq inches of primary cooking area.
240 sq inches of secondary cooking area. Front door access to coals.
Donor: Friends of the Auction
35-Bottle Wine Cooler and Gift Card
Danby 35-bottle wine cooler. UV resistant glass, interior LED display light, automatic defrost system, 5 1/2 removable black wire shelves, one staggered shelf and reversible door hinge. Plus a $25 gift certificate.
Donor: Kettle Moraine Appliance
Tuition for the 2019-2020 School Year
The recipient of this prize will enjoy one year of school tuition paid in full.
It's sure to make it a great 2019-20 school year!
Donor: Saint Frances Cabrini and Friends of the Auction
Sendik's Shopping Spress
This is grocery shopping made easy! A $500 gift card to Sendik's.
Donor: Sendik's
Blue Harbor Resort Stay
2-night stay at Blue Harbor Resort for up to 6 people in their Loft Fireplace Suite.
The suite has a wonderful city view, 3 queen size beds and includes 6 water park passes.
Whether it's a rollicking visit to their year-round indoor waterpark and arcade or a relaxing stroll on one of the eco-friendly lakeshore trails, your visit is sure to be a wonderful time!
Valid for use Sunday-Friday. Black out days may apply and up-charges for holidays.
Donor: Blue Harbor Resort and Friends of the Auction
---
50/50 
At your table, your chance to win half the pot!
---
GOLF OUTING - PUTTING RAFFLE
Sign up for the Golf Outing. Then make your putt, and you'll be entered to win a free spot at the Golf Outing.
---
JEWELRY RAFFLE
14 Karat White Gold Necklace with 7/8 CTW diamonds. Chain included.
One chance for $25, two chances for $40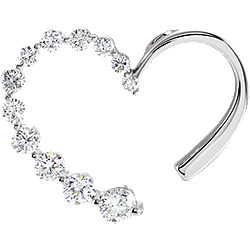 Donor: HTG Design Jewelers and Friends of the Auction
Value: $2000
---